We Firmly Invest in Our People
Elysee Irrigation, a worldwide leader in the design and creation of innovative and practical irrigation systems, regards its personnel as its most valuable asset.
It believes in them and, exactly for that reason, it invests in them.  
Adopting an exemplary, genuine anthropocentric philosophy, Elysee Irrigation considers personnel care as a number one priority, while investing in new models of strategic training and staff assessment.
This short article presents an overview of several initiatives of the company in this regard.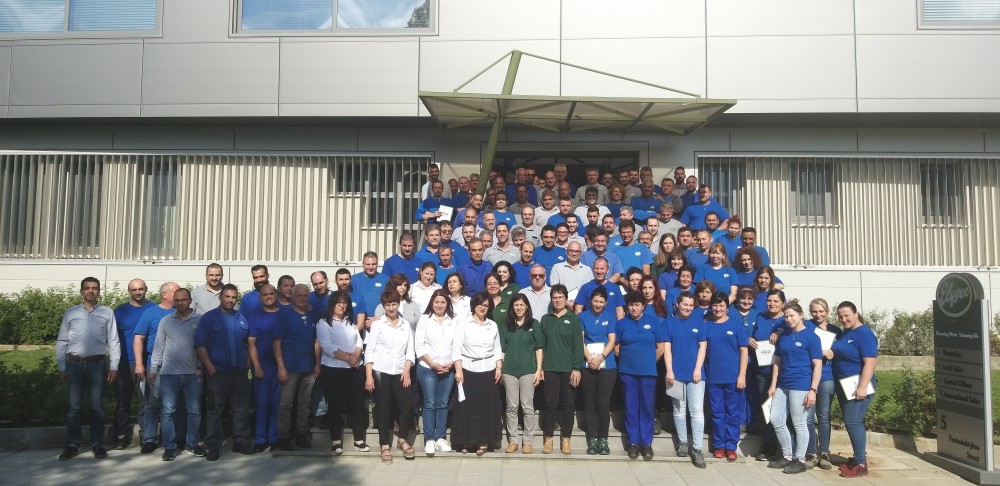 A New Personnel Assessment System
Elysee's impressive feats over the years have been based and founded on a specific belief: its development is ensured and realised through the individual development of each and every one of its staff members.
Fully embracing this view, Elysee Irrigation has invested time, effort and significant resources in training properly its staff, while developing a highly sophisticated personnel assessment system, aiming at constantly improving its efficiency.
In this context, 190 staff members were carefully selected as personnel assessors, while similar training sessions helped the rest of the staff to contribute meaningfully to the whole process. The main goal of this training program was to help the assessors understand the upgraded assessment system, and thus ensure its most efficient implementation.   
This improved system ensures the fair and objective evaluation of all staff members.  
Staff Safety & Sustainable Development are Our Priorities
Elysee Irrigation always considered staff safety among its top priorities, examining over and over again its procedures and working conditions to ensure their well-being safety, while pursuing its vision for sustainable development.  
In line with its effort, the Company succeeding in acquiring three rather important international certifications during the last year: ISO – 45001, regarding staff safety and protection, as well as ISO – 14001 and EMAS (which is granted exclusively by the European Parliament), regarding its environmental management system.  
Showing Workers its Gratitude
Besides the upgraded assessment system and training program, Elysee took another exceptional initiative for its workers, which had both symbolic and practical significance.  
Despite the exceptionally difficult circumstances that plagued humanity and the world economy over the last year, Elysee had a successful financial year, developing further its technological innovations and its clientele.  
Acknowledging that this amazing feat -considering the difficult circumstances all over the world- came as a result of the efforts, diligence, and dutifulness of its staff, the Company decided to offer each one of them, aside from the additional 13th salary, a bonus of 200.00 Euros.
In this way, Elysee expressed its appreciation and gratitude for their sedulity, diligence, and passion with which they share the company's values and vision.
Investing in the holistic development of its personnel, Elysee strives for a sustainable and greener future, offering internationally acclaimed products of unparallel quality and contributing significantly to the evolvement of local communities with its services.  
Contact us