Discover the ZEEFLEX fittings collection
For effectively connecting flexible PVC hoses that are used in swimming pool installations, Elysee has developed the top-quality ZEEFLEX Compression Fittings. The fittings are the result of thorough testing and development by the Research and Development Department of the company, which ensures each product's optimum design, function, and operation.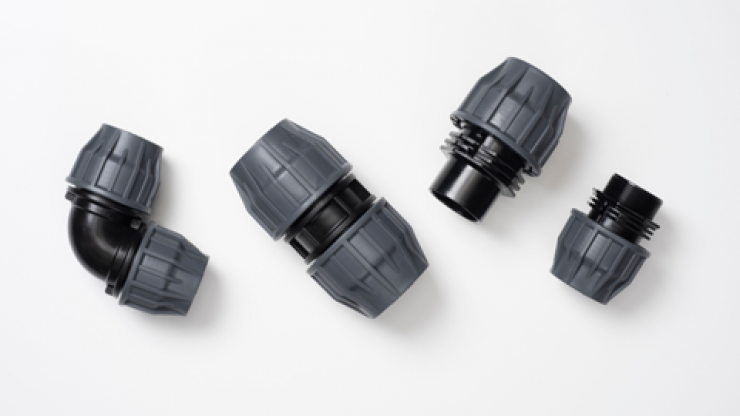 The ZEEFLEX Compression Fittings have great properties and constitute the most trustworthy products to be used with 50&63 mm flexible PVC pool hoses. Specifically, they comply with the dimensional requirements and characteristics of various relevant standards such as EN 712, 713, 911, ISO 34 58/3501, and DIN 8076. Conveniently, the fittings can be operated with working pressures of up to 6 bars at 20 ⁰C while the spiral pipe can withstand temperatures of up to 50 ⁰C.  They have an extensive use with various fluids, in addition to water, due to their high chemical resistance, and they are even suitable for transporting abrasive slurries while withstanding normal conditions, like for example those found in urban, mining, industrial, rural water, and waste water systems. Likewise to all Elysee products, these fittings are made with the most high-quality materials. Specifically, due to their non-magnetizing properties, there is no risk for electrolytic deterioration. In addition, the thermoplastic materials used for their manufacturing provides them with excellent impact and weathering properties, enhanced with ultraviolet radiation that offers complete protection against degradation.  We cannot stress enough that meticulous testing is constantly being performed on our fittings, which includes that of raw material (MRS value), internal pressure of the fittings' body and of the fitting fixed with PE-pipes. Moreover, a pull-out test of the fittings connected with PE-pipes is done. What is also of vital importance is that leak tightness against low pressure and bending is ensured with the appropriate checks as well as the melt mass flow rate. Finally, hygiene is also one of our prime concerns, hence, we conduct careful testing of the fitting's body and sealing ring.
Each component of the fittings has its own specific purpose for having the most effective and reliable function. The most important fitting component is, of course, its body, which has the ability of being shaped in various dimensions and configurations, according the fluid's direction. The body is made from either black high-performance polypropylene copolymer PP-B or PVC, materials that endorse the fitting with higher impact resistance qualities, in comparison to other plastic materials, ensuring long-term pressure resistance. Within the fitting system, a nut is positioned, which is externally connected to the body by a male trapezoidal thread. Also, the female trapezoidal thread that is internally applied enables an easy connection of the nut with the fitting body. The material used for this component is black high-performance polypropylene copolymer PP-B, and it has an ergonomic design that makes handling during assembly with a pipe easy and simple. The same material is also used for the insert that secures the o-ring (a component that guarantees leak tightness between the fitting system and the inserted pipe) during handling and operation. The material chosen for the o-ring is EPDM and Nitrile rubber (NBR 70), which allows it to withstand high service temperature and have high compression set, tear, and abrasion resistance. For achieving the most effective grip between the fitting system and all kinds of polyethylene pipes, there is a split ring, made from high-performance polyacetal material and a mixture of nylon with fiberglass 30%, that provides the optimum high-end load resistance. The design of this component, with conical ribs externally and sharp triangular teeth internally, guarantees excellent function.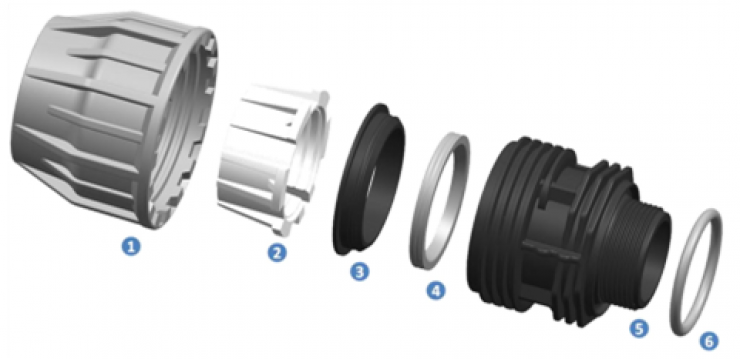 Elysee vows to offer to its customers a large selection of the most reliable, high quality, and trustworthy products that are eco-friendly, easy-to-install, and corrosion-free. This is why all products and hardware, which are patented and award-winning, are designed, developed, and manufactured in Elysée's in-house R&D facility.
For more information or advice on the company's solutions, you can contact Elysee's technical office team that will promptly answer all your questions and meet your every requirement.
Contact us