ReCyFilm
Duration: 02/04/2019 - 01/01/2022
Total Funding: € 199.628,50
Design and manufacturing of a novel Low Density Polyethylene (LDPE) Film for the construction industry, using recycled agricultural plastic waste (APW).​
The project "Design and manufacturing of a novel Low Density Polyethylene (LDPE) Film for the construction industry, using recycled agricultural plastic waste (APW) aims to the design and manufacturing of an innovative, environmental friendly and economically viable Low Density Polyethylene (LDPE) film (Recy-Film) for applications in the construction industry. The main innovation and environmental aspect of the proposed product is the raw material to be used, which will be recycled agricultural plastic waste (APW), delivering a green building material which can be considered for green public procurements (GPP). TRecy-Film will essentially replace the existing LDPE film product of Elysee, whose current production line uses virgin, fossil fuel-based materials. LDPE films are installed in buildings as vapour barriers, to reduce weed growth, and as a separating layer to accommodate differential movements. The choice of construction LDPE films was selected due to the contamination of APW with chemicals, a fact that forbids its exploitation either for potable water pipes, or for irrigation plastics. For the manufacture of the Recy-Film, a pilot recycling unit, which will be able to handle 6 tonnes of APW on a daily basis, will be installed at the industrial facilities of Elysee. The project will also investigate the supply chains of APW from the source to the recycling facilities for the design of a comprehensive collection system that will be adopted by Elysee.
Updates:
Project Protocol Number: ENTERPRISES/0618/0131
Project Acronym: Recy-Film
Project Starting Date: 02/04/2019
Project Completion Date: 01/01/2022
Funding Agencies
Recy-Film is a project funded by the Research and Innovation Foundation (RIF) Programme ''Research in Enterprises'' in the framework of the RESTART 2016-2020 Programmes. The RESTART 2016-2020 Programmes constitute a multiannual framework of Programmes for Research, Technological Development and Innovation (RTDI) Support in Cyprus, co-funded by national and European funds and implemented in conjunction with other national initiatives and programmes.

MEMBERS OF THE CONSORTIUM
Elysee Irrigation Ltd – Host Organisation
2. Agricultural Research Institute (ARI) – Partner 1
3. Frederick Research Center (FRC) – Partner 2
METHODOLOGY
WP3 – Supply chain and collection of Agricultural Plastic Waste (APW)
WP4 – Recy-Film Design
WP5 – Recy-Film Manufacturing and Testing
WP6 – Sustainability Aspects of Recy-Film
KEY ACTIVITIES
APRIL 2019: Project Initiation
The whole supply chain of APW was defined and a comprehensive collection system for APW was designed.
The Recy-Film was designed and the requirements of its production process were defined.
The most suitable Agricultural Plastic Waste (APW) recycling pilot unit was selected for purchase.
JUNE 2020: Project Progress Report submitted
Recy-Film prototypes were created and characterized, a new collaboration opportunity arose.
The APW recycling unit has been delivered at the HO's industrial facilities, the deployment of a new functional production line has been achieved.
Systematic trials have been followed in order to define the ideal operating conditions and to implement a Life Cycle Assessment study. 
DECEMBER 2021: Project Completion
DISSEMINATION ACTIVITIES
- EIMA International – The International Exposition of Machinery for Agriculture and Gardening (October 19th – 23rd,2021)   Exhibition participation.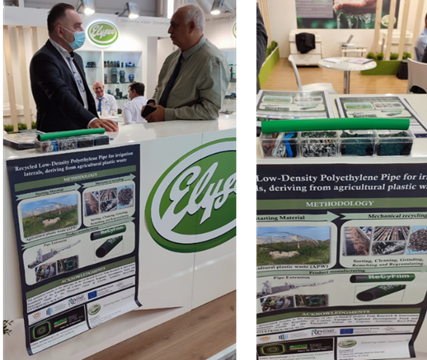 Recy Film Exhibition Elysee Irrigation EIMA
- An interview dedicated to the Circular Economy (ΡΙΚ) – (November 2nd, 2021)  Information Day 1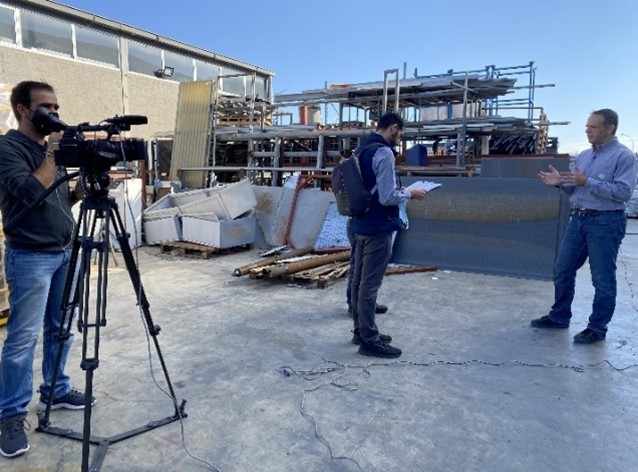 - Demonstration (Elysee's worldwide co-workers) – (December 1st, 2021)  Information Day 2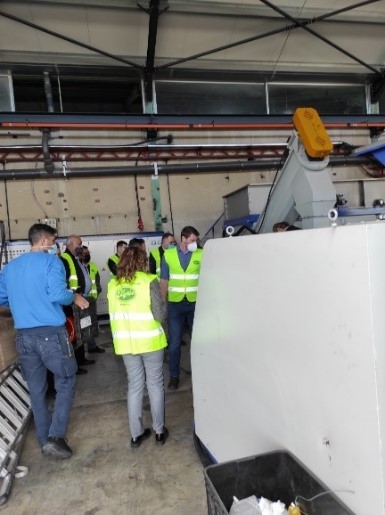 - Project Workshop:  13 December 2021, 11:00-12:00 am; Seminar Room: Thasos Papadopoulos, New Wing, 1st floor, Frederick University, Nicosia, Cyprus.
- Project Workshop: 22 December 2021, 10:00-13:00; Elysee Irrigation, Ergates Industrial Area, Nicosia, Cyprus.

Recy Film Workshop Elysee Irrigation (agenda 22.12.2021)


Recy Film Poster (22.12.2021)

Recy Film Leaflet (22.12.2021)

ReCyFilm Brochure and material specification manuals
Technical Leaflet 

Recycling of APW material  

Novel Recycled Pipe