GreenDrip
Duration: 01/06/2022 – 28/02/2023
Total Funding: € 39.999,75
Implementing a circular economy model on plastic piping system: 
Production of Green polypropylene fittings via co-injection molding process and validating through low-pressure irrigation systems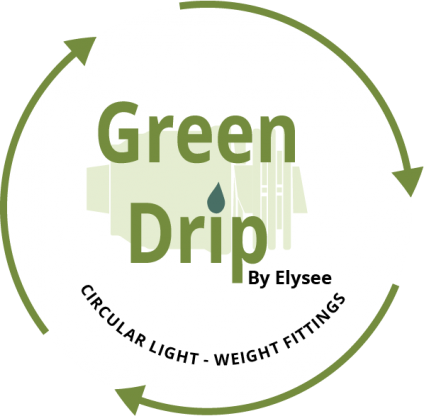 Project Objectives
Elysee strategically approaches circular economy model, moving on to a sustainable world. GreenDrip project aims to recycle post-industrial polypropylene (PP) material (PPM) generated through the manufacturing processes of piping fittings, producing high-quality recycled PP thermoplastic material – green PP – to be used as secondary material in co-injection molding. GreenDrip project runs for 9 months, a sufficient timeframe for successfully fulfilling all industrial research and development activities/tasks and falls within (TRL) 3-4 (TRL 3 - experimental proof of concept, TRL 4 - Technology validated in lab) Technology Readiness Levels. The project's implementation plan consists of the creation and lab validation of GreenDrip prototypes.
The main beneficiary of this research project is Elysee Irrigation Ltd. The company participates individually.
Implementation Plan
The project develops and validates the GreenDrip prototypes through the following work packages (WPs):
WP1 Project Management. WP1 aims the overall project management and coordination. A suitable management plan is given for smooth project activities execution. (Duration M1-M9)
WP2 Dissemination and Exploitation Activities. WP2 targets to effectively disseminate/exploit the results of the research project, and to determine the next plans for the scalability of the technology readiness level of GreenDrip. (Duration M2-M9)
WP3 Fabrication and characterization of recycled PP pellets. WP3 intends to design, produce and characterize recycled PP pellets starting from in-house polypropylene material. (Duration M1-M5)
WP4 GreenDrip Design. The main aim of WP4 is to design GreenDrip and define the requirements of co-injection molding process (Duration M3-M7)
WP5 Creation and Validation of GreenDrip. The key objective of WP5 is the creation and lab-testing and improvement of the novel GreenDrip. (Duration M5-M9)
WP6 Scalability Chances of GreenDrip concept. WP6 seeks to examine the scalability chances relating to GreenDrip concept. (Duration M7-M9)
Dissemination Material
3rd International Conference on Polymer Science and Composite Materials October 03-05, 2022, in Rome, Italy.
Link:  https://polymersconference.yuktan.com/about
Poster presentation: click here
GreenDrip Webinar, Thursday, February 16 at 11:00 PM.
Invitation: click here
Funding Agencies
The project has received funding from the Research and Innovation Foundation (RIF) in Cyprus under the Proof of Concept for Technological and Knowledge Applications (Bridge Programmes) Programme, co-funded by the European Union and the Republic of Cyprus.